As usual these days I've got some catching up to do... so lets go back a few weeks and visit Marshall's last day of school... the one that I missed... for the same reason this blog goes silent... because it's craziness around here.
Trace ran the show as his last event as Marshall's kindergarten room-parent. I've never seen a group of kids stand so still before. I bet they are about to burst!
And apparently they did burst shortly after and broke out into the tooty-ta-ta dance. Gotta love kindergarten!
From what I understand, the last day of school was just a big party. Marshall & friends, Luke & Ryan, picked out their hiding places for skipping class next year.
Marshall got an early start and skipped the last couple of hours on the last day of school... pathetic. I will forever use this as an example for when he doesn't finish something... "Marshall Pershing Durham the fourth! You can't finish anything! You couldn't even finish kindergarten! Get back on it!" Oh yes, that sounds like a good future bashing.
I had to make additional return on my investment for taking 21 pictures of kids in a teacher-less classroom. Have you ever been in one of those? It's scary. The kids give you their attention for 15 secs. If they smell any weakness at all, they take over.
I love popping off their little heads in Photoshop ;-)
Marshall calls the above "fancy letters". Apparently he's observed the girls expressing their creativity with embellished letters and thinks it's pretty cool. I had a unique opportunity to impress him with my portfolio of fancy letters and he thought I rocked. I couldn't resist the opportunity to show this bunch of kinder girls that this thrity-something old mom still had fancy letters in her! Soon enough they'll be ready for my full artillery of fonts...
I was also ready for school to wind down since that meant there was less to project manage in life. More importantly, I was ready to make our annual trip to the beach- but first, basketball. Just when we think we're getting off of externally imposed schedules, we sign up for a new one... who invented team sports anyway?!?!
Marshall did great. He scored the first basket of the first game and he exceeded all of my expectations... yada, yada, yada.
Now... finally... off to the beach...
Trace & I joined his parents, Tiffy & the boys at the beach a couple of hours later- we made a quick wedding stop along the way. Marshall immediately ran to his photo spot and was ready to have his annual picture taken.
In case these pics aren't burned into your brain by now...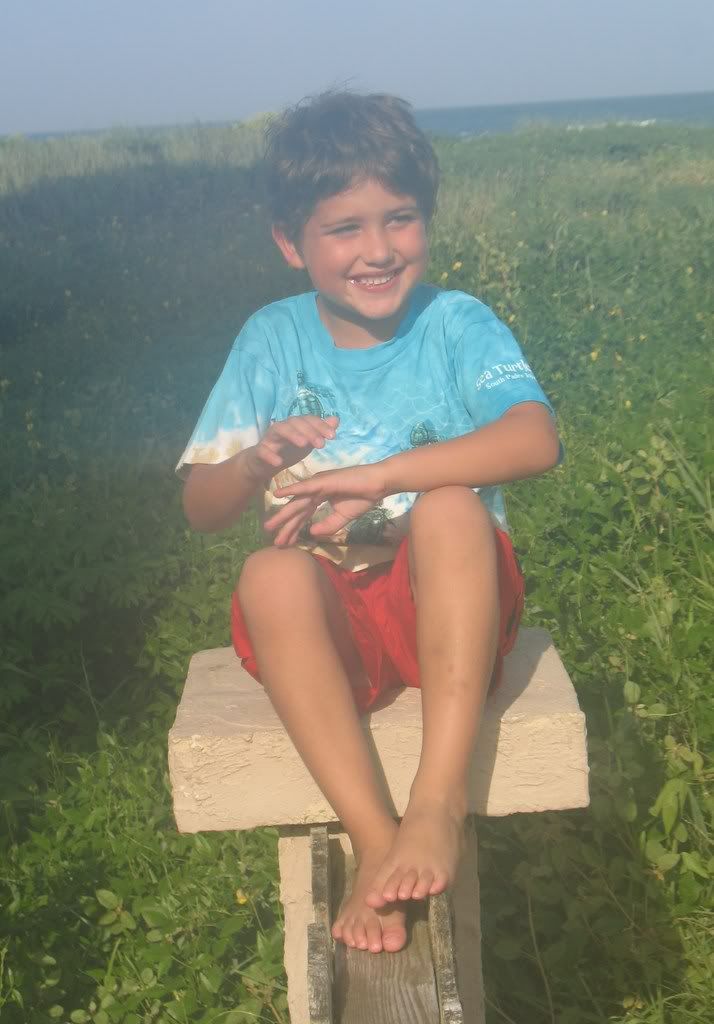 Goodness I could eat him with a spoon. Especially that second picture of when he was 4. I find it just as interesting to look at the improvements in digital photography over the years- this years pic was with a digital SLR. Big difference!
Braden also decided to cooperate this year. He's a couple of relative years behind Marshall on the cooperation scale.
Isn't Braden's life vest lovely. He had to buy a new one while at the beach because he's worn out the others. I'd be happy to sell it to you for a good price because he's no longer using it. Yes, my baby is swimming without anything preserving his life. He's all out there now. Bittersweet... bittersweet.
The big plunge...
And he's off...
The kids swam and swam and swam. Makes them boys hungry... and a little goofy.
Makes the sea tutles hungry also.
In addition to playing professional basketball, Marshall wants to rescue sea turtles in the off-season.
The sea turtles are always high on our priority list when we're at the beach. Fishing was added this year- but the fishing... not so good.
I realize I have no actual beach pictures. I know someone has some somewhere, but these boys were way to brave in the waves this year to allow us to have even a camera between us and them.
I caught a greyhound bus overnight and came back home early. I had work to do and a trailer to buy. Yes, I said a trailer. Meet my newly remodeled kitchen!... I mean travel trailer.
We have big plans for her this summer- although we did run into some planning issues with how we're going to pull her around. Thank goodness that "new" grandpa is letting us abuse him by borrowing his truck. The good news for him is that he gets to drive a new Saturn Outlook during more weekends than he'd probably like. So please, for the sake of my father, give me your truck. I need it more than you do... I think... yep, I'm pretty sure that's the case.
And so... now I'm in the market for a truck. Say goodbye to new upstairs carpet!